Oven Cleaning at Hereford
Oven Cleaning at Hereford
For oven cleaning at Hereford enquries 01989750121
Here we are, your own local, professional, and family-run oven cleaning company, covering Hereford, Ross-on-Wye, Monmouth, and villages in between. We take pride in our attention to detail, right from your initial enquiry, through to that final polish. We always aim to be polite, professional, and punctual.
Oven Cleaning at Hereford
Our Unique System 01989750121
All other oven cleaning companies work from vehicle-based soaking tanks, with all the inconvenience that involves: front door open in all weathers, muddy footprints, and unsafe for children and/or pets. However, we are happy to let you know that we work right by the oven and keep disruption to an absolute minimum.
We ensure that our system is as guilt-free as possible: biodegradable, non-caustic, no nasty after-smells, and we drive an electric car http://www.nissan.co.uk Our method is also safe for use at properties where there is septic tank drainage.
Our service ensures meticulous attention to detail. Therefore, we can achieve fresh and sparkling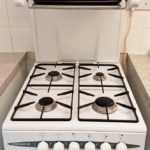 results, even on stubborn stains in the most grubby oven. As a result we can return your oven to as near showroom condition as possible, whilst doing our best to work with minimum environmental impact.
Keeping your precious cooker clean will extend its life. A grease-free oven uses less power and besides, burnt-on grease smells awful when heated! A clean oven is a winning situation, whatever its age.
Oven & Range Cleaning.  Proud to be your own local oven cleaning company. 01989750121